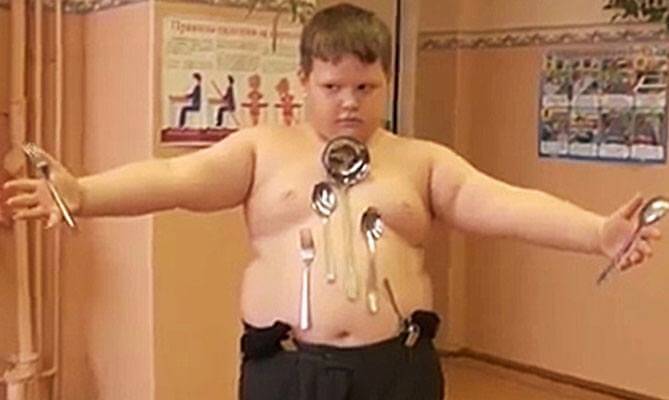 Jonah Cooperman is like any other 11-year old Milwaukie boy. He likes Minecraft. He likes to ride his bike. And he loves the comic book hero Ironman.
He loves Ironman so much in fact that he decided the best way to show his appreciation was to try and turn himself into iron.
Jonah is also gullible however, and upon the advice from some kids at school, he began eating metal shavings daily in an attempt to turn his skin to iron. And because his father operates a metal fabrication shop out of the family's garage, he had easy access to a virtually unlimited supply of metal shavings.
"My mom always told me, 'you are what you eat,' Jonah told Milwaukie's WDJT-TV News. "I thought eating iron would help turn me into Ironman."
Cooperman also showed the tv station some of the cool Ironman gadgets he has been working on in his bedroom. He's started a rocketboot prototype, and a helmet with a heads-up display that relays all of the same type of information that the movie character has in his helmet. While the movie is fiction, Jonah has been hacking a pair of discarded Google Glasses he found at his local Goodwill store.
Then there's his test magnet.
"I knew that if I started to turn metal, I would be magnetic." I use this handheld retrieving magnet to test the iron content of my skin. Of course I am most magnetic around my stomach, as the iron I ate most recently has not been digested yet."
With the reporter still skeptical, Jonah went to the silverware drawer in his kitchen, and began tossing silverware into the air and having it stick to his body.
Tests revealed that Jonah was not just magnetic, he had some serious pulling power; approximately 200 pounds per inch as tested by the Wisconsin State Department of Weights and Measures!
Jonah thus far has not displayed any ill effects from consuming metal shavings. He says his favorite ways to eat them is to mix them with cereal and says that they taste just like chicken!
In a separate press release published April 1, 2015 Shields Magnetics announced plans to hire Jonah its latest spokesperson stating, "He's the most magnetic person we have ever met! If only this story were true. . . . .APRIL FOOLS."
This hoax was inspired by an actual report that aired in November 2014 on Russian TV and was also covered by the NY Post.
About the author : Shields Magnetics
Related posts
Popular products
Product categories