DAGS Magnetic Fork Covers
These slip-resistant, scratch proof all-weather, neoprene coated magnetic fork covers make it easier to handle and protect even the most unstable forklift loads. We have every size, for every fork.  Widths available: 3″, 4″, 5″, and 6″ and Lengths available: 42″, 48″, 60″, 72″, 96″.
Versatile slip-resistant/scratch-resistant/tear resistant
Neoprene magnetic fork covers for a wide variety of loads
Load stabilization when turning or driving on rough surfaces especially when handling steel/metal on steel forks or handling wet material
Attaches magnetically, evenly
Single piece design. No straps or buckles
3 Year Warranty
In Stock! Shields Magnetics is an authorized agent for DAGS Magnetic Fork Covers.
---

Government: Also Available Under GSA Schedule 51V , Contract number is GS-06F-0046N Learn about our government capabilities (including NAIC and PCS numbers)
International Buyers: Click here to find your global distribution partner. CANADIAN CUSTOMERS, PLEASE CALL (805) 642-4408 TO ORDER.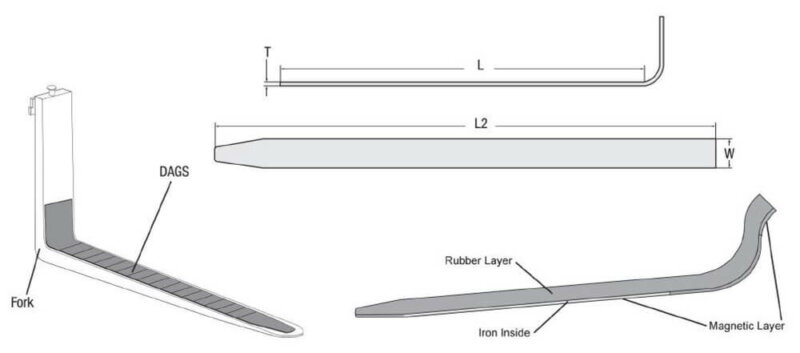 DAGS Magnetic Fork Cover Specifications

Item #
Intended
Fork Size
Metric Desc.
Width
Blade
Length
Overall
Length
Weight (lbs.)
Approx.
Thickness
6538417
3″ X 42″
1400/960/80 P-B2
3″
38″
55″
7.7
1/4″
6538260
4″ X 42″
1400/960/98 NP
4″
38″
55″
6
1/4″
6538262
4″ X 48″
1400/1150/98 NP
4″
45″
55″
7
1/4″
6538263
4″ x 60″
1400/1370/98 N
4″
54″
55″
7.5
1/4″
6538264
5″ X 42″
1400/960/118 P
4 5/8″
38″
55″
7.7
5/16″
6538265
5″ X 48″
1550/1150/118 P
4 5/8″
45″
61″
8.8
5/16″
6538266
5″ x 60″
1550/1370/118
4 5/8″
54″
61″
10.8
5/16″
6538267
5″ X 72″
2000/1650/118
4 5/8″
65″
79″
12.5
5/16″
6538268
5″ X 96″
2500/2150/118 H2F1 *
4 5/8″
85″
98 1/2″
25.3
5/16″
6538412
6″ X 42″
1400/960/148 P
5 3/4″
38″
55″
9.7
5/16″
6538413
6″ X 48″
1550/1150/148 P
5 3/4″
45″
61″
11
5/16″
6538414
6″ X 60″
1550/1370/148
5 3/4″
54″
61″
13.6
5/16″
6538415
6″ X 72″
2000/1650/148
5 3/4″
65″
79″
15.8
5/16″
6538416
6″ x 96″
2500/2150/148 H2F1 *
5 3/4″
85″
98 1/2″
31.5
5/16″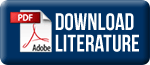 More Industrial Magnet Solutions For Your Business