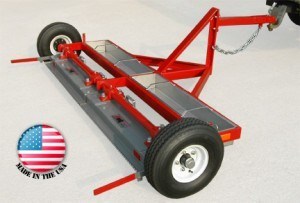 MKS4000 tow-behind magnetic sweepers feature a super-strength tow magnet ideal for sweeping roads, parking lots, driveways, airport runways, flightlines, etc. These are U.S. Made tow behind magnetic sweepers, not Canadian or overseas.
Shields sweepers are made to last, constructed from top-grade materials, and the strongest magnets are used to ensure our tow-behind magnets remove the maximum amount of ferrous metal debris.
This equipment is manufactured in accordance with USA Government military specifications under MIL-S-29174B. Tow behind magnetic sweepers are the most effective method of removing ferrous metal from concrete grooves! 3″ clearance at 13 mph with road magnets in sweeping position, 5″ clearance with magnets in traveling position. Actual sweeping widths of 60″, 72″, 84″ and 96″, so you get full sweeping coverage!
Collected metal is easily dumped into 4-1/2″ deep retainer pans eliminating time-consuming trips to dump sites. Trailer-type frame constructed of heavy gauge steel for long-lasting performance and durability. Flat-proof, sealed bearing, semi-pneumatic tires, safety chain, and choice of coupling attachments.