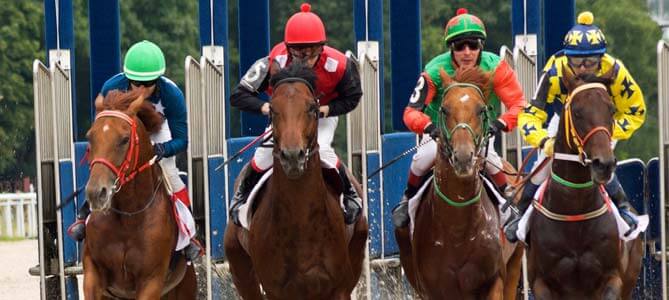 When horses and the jockey line up for the 141st Kentucky Derby this Saturday, all of the attention will be focused on the animals, the pageantry, and the history of the race. Few people will appreciate the man-power and equipment spent getting the one-mile dirt oval prepared or the effort required to get a horse to the starting line.
The course is harrowed, rolled and graded each day following morning training to ensure that track conditions are ideal for the race. Track conditions are such a critical component, that the status of the course is updated daily on the Churchill Downs website.
The video below gives you an idea of what a track looks like when it is prepped, and the sort of impact that hooves have on the racing surface.
Even with regular maintenance, unwanted items find themselves embedded in the dirt. Several other race courses, including the Del Mar Thoroughbred Club in California use our tow behind magnets to remove metal debris from the track and surrounding areas. Other smaller, handheld sweepers are useful for cleaning stables. These smaller sweepers can also be stored in horse trailers and taken along to facilities where a horse is temporarily kept during transport.
Most Kentucky Derby contenders have a value of at least $100,000. There are some exceptions, like last year's winner California Chrome, who was bred for just $10,000 and had earned $1.1 million prior to winning the race. Getting a horse to the Derby is incredibly challenging, as the horses are young.
A horse is required to be a three year old, meaning that they usually have less than a year of racing under their belt. At a year old, they a trained to get used to the weight of a saddle and eventually a rider. They also begin getting accustomed to the starting gate.  In their second and third year, more time is spent training on a track and racing against other horses. Then to qualify for the Derby, they have to earn points in qualifying races.
Given the amount of time and money invested on thoroughbred race horses, the cost of a magnetic sweeper is a small fee for the piece of mind it gives the horse owner and trainer.
Track operators should think of magnetic sweepers as an insurance policy for trainers and their horses. Regular sweeping ensures that horses will not get metal debris lodged in their hooves. Even one injury cause by metal debris could permanently damage the reputation of a horse racing or boarding facility.
About the author : Shields Magnetics
Related posts
Popular products
Product categories