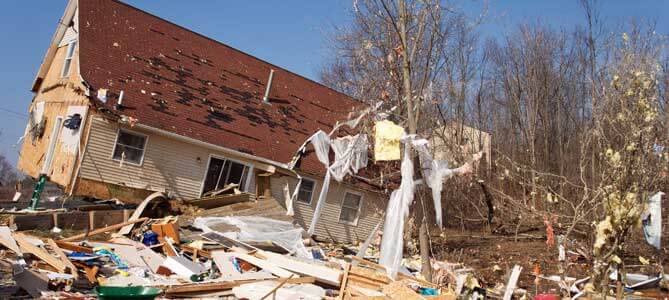 First the good: According to a study in the October 2014 Journal Science, the number of days with at least one (E)F1+ tornado in the U.S. has fallen from an average of 150 days in the early 1970s to around 100 days in the first decade of the 21st century.
Now the bad: the same researchers found that the number of days with a large number of tornadoes is actually increasing. Basically, those severe weather days are more active when they do occur.
If you live in an area affected by tornadoes – primarily what is called Tornado Alley – South Dakota south to Texas, you may agree with the findings of this study.  A separate survey conducted by Harris Poll found that only 16% of Midwesterners have taken steps to prepare for a disaster, including creating an emergency supply kit, establishing a family meeting plan, and safely storing important documents.
That number is startlingly low given the higher likelihood of a weather caused disaster.
Emergency supply kits contain basic items such as food, water, flashlight and batteries, a radio, matches, an emergency blanket and a first aid kit. We'd like to add one more item to the list of things you put in your emergency supply kit: a magnetic sweeper.
Tornadoes that strike populated urban areas leave behind a path of destruction riddled with metal debris. Roofing nails and other twisted metal debris causes flat tires, and can hurt the feet of people, pets and livestock.
The article "Twenty-two Minutes Over Topeka" published in the March 1967 issue of Popular Mechanics detailed a particularly deadly tornado that struck the Kansas capital. The article detailed how fire trucks and many other emergency response vehicles were forced to drive on flat tires because they had picked up large amounts of metal debris.
While tire technology has improved, there will always be flat tires following tornadoes. The best solution is to get that metal debris picked up as quickly and efficiently as possible. And the best tool for that job is a magnetic sweeper.
For the homeowner, a handheld sweeper is probably the right choice. For farmers and ranchers, a vehicle mounted or tow behind unit allows for picking up metal debris over a large area much easier. For municipal teams, such as sanitation and transportation departments, vehicle mounted and tow behind models are popular solutions.  While purchasing this type of equipment has an initial cost, the savings over time can be tremendous as it can greatly reduce the number of man hours required for cleanup.
About the author : Shields Magnetics
Related posts
Popular products
Product categories