Magnetic Brooms with Wheels
Wheeled magnetic brooms are the most versatile solutions in our product line-up. Snap up leftover nails, tin scraps, screws, etc from virtually any surface indoors or outdoors.  These products are ideal for roofers, construction crews, facilities maintenance, anywhere else metal debris is found. Explore our products below to find the right tool for your job or worksite.
Every Magnetic Sweeper Carries a Lifetime Guarantee on Strength
Utilizing state-of-the-art technology and the most advanced materials available, Shields magnetic sweepers are innovative, functional, and effective.  Our entire line of sweepers carries a lifetime guarantee on strength and a full product performance guarantee. All of our industrial magnets originate in the USA.
Need a magnet with wheels that you can use as a push broom or mount on a forklift?
The Terminator is a multi-surface workhorse that can be used anywhere. This 48″ wide magnet picks up a tremendous amount of metal debris that is easily removed with the push of a lever. This is one of our most popular products!
Available in 24″, 30″, 36″ & 48″ lengths, our  US Made Multi-Surface Magnetic Broom has 7″ wheels and a removable handle for easy storage. This magnetic broom snaps up metal debris from concrete, grass, gravel and other terrain quickly and easily. It's the ideal product for residential roofers, shot-blasting facilities, construction crews, facilities maintenance, and equine facilities!
Our 24″ EZ Clean Broom Magnet is designed for relatively smooth surfaces such as concrete, hard-packed dirt and pavement. Clean-up is a breeze. Pull the top-mounted release handle and accumulated metal drops – no bending or lifting required.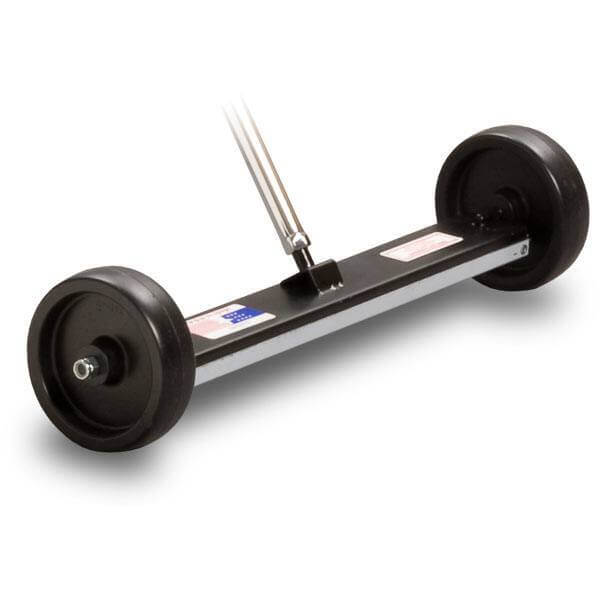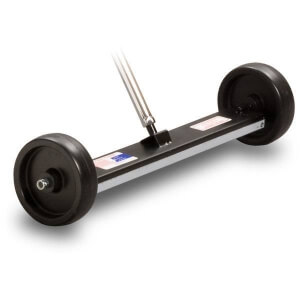 The Econo-Mag is our most feature-packed magnetic broom. Capable of holding a 50-lb. steel plate, this hard-working magnet is perfect for use on driveways, job sites and warehouse floors. Its removable handle makes for easy transport and storage.
Compare Magnetic Broom Models
| Product | Economag | Multi-Surface Magnet | EZ Clean | Terminator Dual Purpose Magnet |
| --- | --- | --- | --- | --- |
| Max Lifting Height | 2″ | 3″ Adjustable | 2″ | 4″ |
| Sweeper Weight | 10 lbs | 28-40 lbs | 38 lbs | 55 lbs |
| Sweeper Widths | 24″ | 24″, 30″, 36, 48″ | 24″ | 48″ |
| Cleaning Method | Manua | Top Mounted Release | Lever Release | Top Mounted Release |
| Best Uses | Driveways/Floors | Gravel/Yards/Floors | Warehouse/Docks | All-In/Out |
| Terrain | Smooth | Any Surface | Smooth/Uneven | Any Surface |
| Price | $69 |  $199-$299 | $230 | $545 |
| | | | | |
All Units Made in the U.S.A.
A Claim Competitors Cannot Make
Frequently Asked Questions
How long do magnetic brooms last?
A. There is a lifetime guarantee on magnetic strength

Will a magnetic broom pick up shot blast beads?
A. Yes, assuming they are steel beads

How do I know which model to purchase?
A. Have a quick look at our comparison chart for model features.

Can you use a magnetic broom on any surface?
A. We have specific models for certain surfaces, please see the comparison chart for features

Will a magnetic broom pick up brass shell casings?
A. No

Do the magnetic brooms need maintenance?
A. No, they require no maintenance